We wake up to wicked wind.  Maybe the windiest we've ever experienced. We are anxious to go to Nuevo Progreso, Mexico.  We have inquired and are assured this is a safe crossing unlike the Reynosa which everyone says is very dangerous with the Cartel ruling.  In spite of the high winds we head out.  We're such adventurous troopers!
Our @lyft driver is informative during the 32 minute drive and introduces us to a free watch TV  app Pluto.  He watches TV between rides with it. We ask about a ride back from the border, he assures there are many cars, both Lyft and @Uber in the area available.  
We are dropped off at the bridge.

Proceed across it unaware there is pedestrian toll and an attendant anxious to take your money.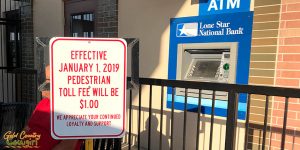 We cross the bridge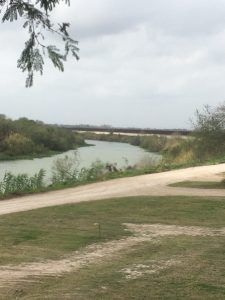 We're in!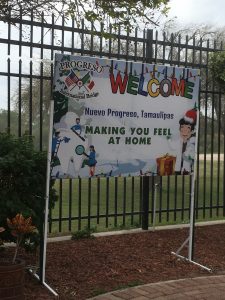 We didn't have breakfast so first stop is lunch.  We walk along the main street and settle upon Red Snapper Restaurant.
It's happy hour!  2 for 1 Margaritas ya me!  Allan has the boring Dos Equis Amber and no happy hour.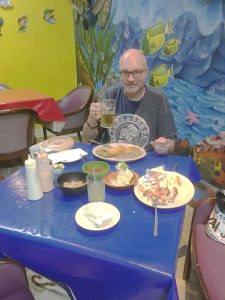 I had the best cheese stuffed, bacon wrapped shrimp ever.  Allan had the stuffed pepper came with the traditional beans and rice.  I made the better choice! I even convinced non fish eater Allan to try a wee bite, his comment "It's not horrible" high praise from him when referring to fish.  
The facilities are as bad as the food is good.  The ladies has a door so warped it doesn't close completely and never mind lock.  Allan wondered what the extremely low door knob was about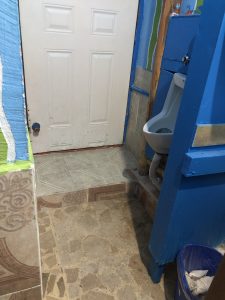 We stroll the streets and view the many vendors offerings.
And of course, the required flamingos!
Who's that handsome cowboy??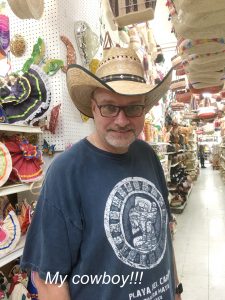 The only thing we bought was a little bottle of vanilla for .95.  We did compile a list of things to get on our next visit including getting a mani/pedi.  It's approaching 3p, still very windy, we decide to head back to avoid the lineups to get back to the States. We cross over with almost no line up.
Back in Texas Allan opens his Lyft app, zero cars available – Uber, zero cars available. The wind is blowing us silly. The video doesn't do justice. IMG_1420
What to do now? We are avid walkers, Progreso TX is about an hour walk which would be OK but it's along a flat sandy highway.  You can't see far it's so sand blown, sand gets into our eyes.
We continue our road side deliberation, a Toyota Sequoia driven by a sole woman makes a U-turn and comes back to us.  "Need a ride?" she asks, Allan "You a Lyft or Uber? "No, but it's good I'll take you where you are going".  We're not sure, do we or don't we get in.  Why would a lone woman pick up a road side couple? Allan decides.. "OK thank you".  We engage her in conversation, turns out she just dropped her son at the border for orthodontic braces tightening work.  Her husband owns Apple Dental  They make it easy to get there. Even if you are timid in crossing the border they have you covered! "We Are Located Behind the Mexican Exit to the United States. If safety is your concern, we are located next to Mexican Customs. While entering Nuevo Progreso at Mexican Customs, just turn to your left. We are located in the plaza behind customs next to HSBC Bank." 
Miriam was our guardian angel!  She delivered us back to the resort and didn't want to accept payment.  We insisted, she finally accepted when I said to buy her kids something.  Such a sweetheart!!  
Me showing off the sun I got today despite of the awful wind, maybe because of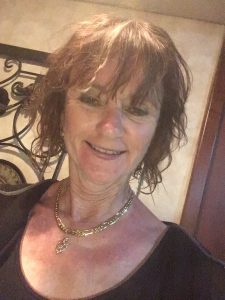 With this corny joke I bid you good night!