I wake up about 6a to rain fortunately the storm wasn't as bad as predicted. Allan wakes early as well, so we have coffee, decide to skip breakfast and head out at 815a, km 50,987. Today 's drive is 3-1/2h, destination Nashville
We watch a few other RVs leave, some easier than others because we are all parked on grass, very wet grass in spots. Some rock back & forth but all make it out.
We pack up, pull in the slides, raise the jacks and are ready to leave at 815a. 50,987km.
Bob & Cathy (that's Cathy on the roof)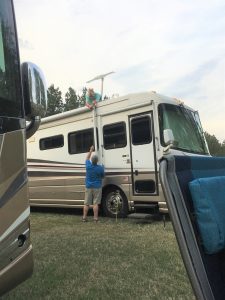 are packed up as well, we say our good-byes and they pull out with no problems. In case anyone is wondering, no we will not climb up on Bailey.  We are both none to fond of heights. 
The grass we were on seemed relatively dry so we knew we'd be OK to back out. I stand on the road to direct Allan out as we do not want our tires to cross the road and end up in the grass on the other side. I motion, back up,  Allan starts then stops. What's he doing?? I run to his window "what's up?" "I'm stuck!!".
Driver's side, the side I see, is dry, I head to the passenger's side – not so much. Try again, Bailey is trying to not disappoint but..
We use the lot marking plastic signs under the drive tires but no go. We are totally stuck!!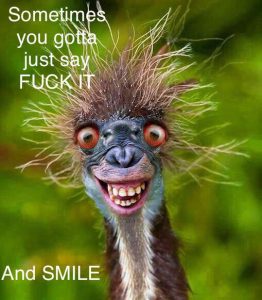 Fortunately, we have RV road side assistance so place the call. They advise they will be there within one hour.
We imagine a heavy tow arriving but aren't sure how they will get us out. It's been sprinkling on and off, now off so we grab our coffees and take a walk down the road to kill some time.
There are not many RVs left. Near the end of the road there is a group packing up. "Good Morning, how are you?" the gent says. "Not good" I reply, "We are stuck!" He replies, "No problem I can pull you out"
Turns out he has a Ford 450 with a winch. We don't understand how he's going to do that but are happy he sounds like he knows what he is doing.
He unhooks his trailer, what a nice guy and comes down. He starts his winch and Allan hooks it to the back of Bailey's hitch.
A few seconds later our new best friend effortlessly pulled us out the of grass/mud. We are FREE!
Our tracks!  Was worse than this photo depicts.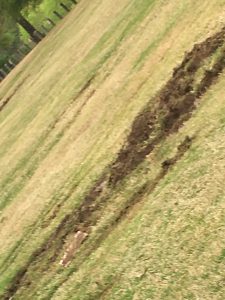 Cancel the call to roadside assistance and we are on our way at 855a.
We know we are on the correct route when we see construction…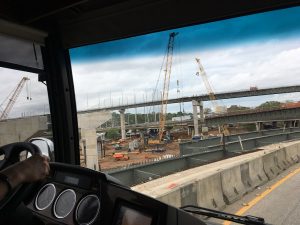 It rains much of the way, we stop for groceries at Kroger.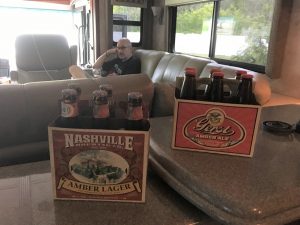 What is that up ahead? An overpass height 13'6" our height is 13' this is cutting it a little too close, we both duck as we drive under. Made it!!
Arrive at the KOA Nashville RV Resort at 2:40p.  Happily set up.
It stopped raining when we arrive so head to our very first @CampingWorld  a 6 minute walk. We buy a few bits and head back, yep raining again.