This is a cute park; no pool or hot tub but paddle boats, corn hole and other games.  The major attraction however is, Radical Racing!  What's that?? You drive Monster Truck!
Start the day with a tour of the park.  This is the smallest camp we've stayed at with 24 sites.  Getting our 10k daily steps will be challenging.
Vonda,
the park's fabulous owner hooks us up with free fire wood and a mat for outside Bailey.  Some of the other campers.

                      The resident horses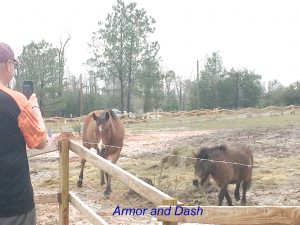 Caution! Some of the devastation left behind by Hurricane Michael
Vonda stayed, in her camper,waiting out the storm for 8 hours.  Must have been, beyond terrifying.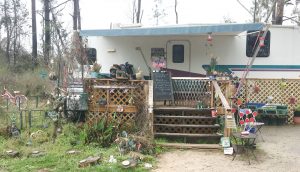 The neighbour loads his vehicle on this contraption and hauls his 5th wheel. Would love to see them on the road
More bunnies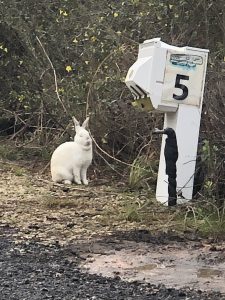 This is the Monster Truck.  Vonda tells us we should have a chat with site 13 as they have  driven already.

Site 13, aka Joan walks by our site and fills us in on what to expect.
This, barely there lane is named!
Viewing Bailey from above lane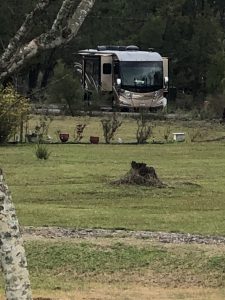 Hangman tree. 
Now on the real quest! Remember no wine at Walmart.  Google spirit stores, one each way on the highway but the walk is 45m and looks scary with no sidewalks.  Maybe the Love's  on the corner, across the street carries wine. First we encounter side of the road boiled peanuts.  Will pick some up on our way back.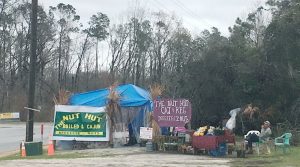 At Love's, "no" they do not have wine only beer.  The associate says there is a spirit store 6 minutes down the road – 6 minutes walking?  Oh no, driving.  We say we are walking, she says "I'll get my GM, Bob, to drive you."  "No, we're good"  She gets Bob, "sure" he says, we say again "no it's OK we don't want to impose"  "No imposition, I won't mind getting away for a bit"  Off we go in his shining Jetta, aka wine mobile!!
6 minutes down the road is the spirit store but….  it opens at 11a and it's only 1045a.  We say it's OK let's go back – no there is another spirit store Bob knows will be opened.  Off we go, this one was another 30m out.  We feel bad for putting Bob through this but it was interesting learning about his Love's employment.  Such a good family owned company to work for!  We get there, make our purchase which includes this big guy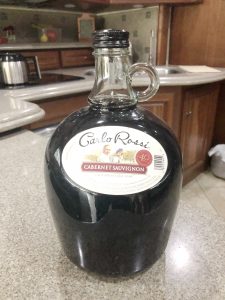 Bob even drives us back to Bailey. Gotta love small town people hospitality!
We have dinner 
Then a fire 🙂
Tomorrow will be road side, boiled peanut run and better yet Monster Truck drive day!