Travel day to Cottondale, Fl.  We crossed 4 States in 1 day.
Water everywhere
First state Louisiana,  second state Mississippi,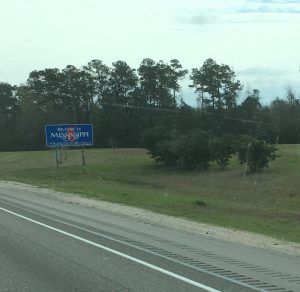 And then!!  More water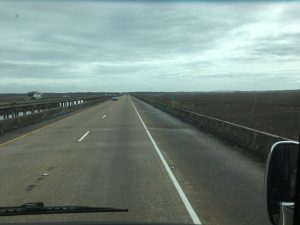 Alabama (missed welcome sign)   This is #LoveDowntownMobile
Oh no!  Coming up too quickly a tunnel, the George C. Wallace Tunnel.
Allan dislikes tunnels as much or more, than I dislike narrow bridges. Allan "Are we too high?"  My thought is – if it's not marked we fit.  A tractor trailer races to the tunnel.  We know we are good.  Turns out, no concern required!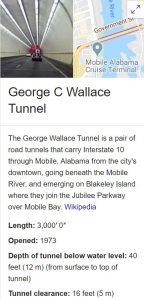 We made it through!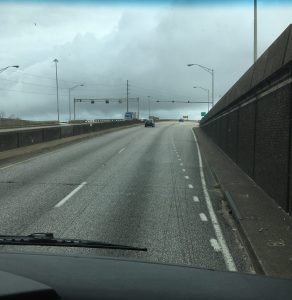 Next up Florida
The Welcome Center is huge! I thought one of us took a photo of the building but apparently not.
Allan gets to update our travel map as it's Bailey's first time in Florida.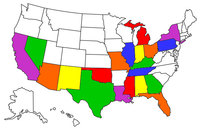 Some excitement on the road.  Not captured in the photo but the guy is in handcuffs and there is a sniffer dog at the back of the "suspect" vehicle.
Starts raining at 118p.
Allan's preferred cruising speed is 65mph – best fuel economy.  It is, very strange, when an escorted wide load passes us.
We stop in Chipley's Walmart to stock up. on produce and wine.  We take note of the "No Over Nite Parking" sign.  This is the worst Walmart we've ever been in.  Little produce, many empty bins, no wine, they did have beer which we didn't need.  Plus side – we got a rotisserie chicken for dinner.
15 minute drive from here to our next stay, HitchinPost Corral and Campground RV Park.
The road in, still raining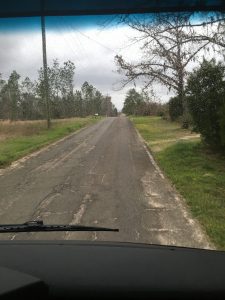 Love the entrance.
First rain set up 🙁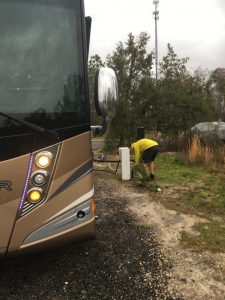 Set up almost complete; still raining so flag out tomorrow.