We leave at 815a, 67,051km
This photo does not show enough the potholes on the road leading into/out of the SSM KOA.  This place takes the prize of being the bumpiest!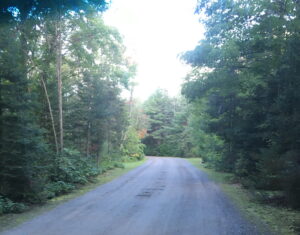 Cloudy skies…
Strange place to be walking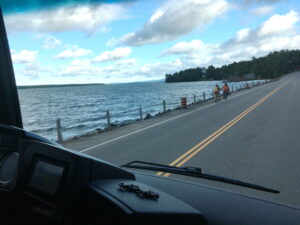 Getting closer.
Rain, helps to clean the windshield 🙂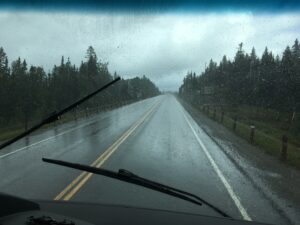 Approaching Marathon as if we would!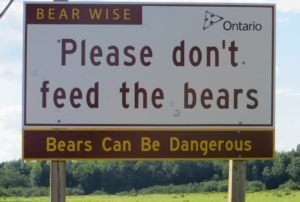 Bears can be dangerous????
We arrive Penn Lake Park at 123p and get set up.
That peek-a-boo hole beside the lawn chairs opens up to the sandy lake.
           

Clouds reflected in the lake
We venture out for a walk and encounter yet another sign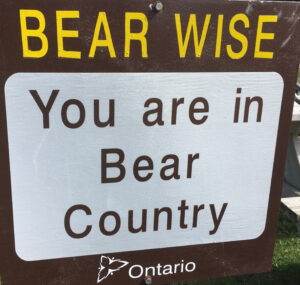 Just passed the bear sign, we find the hiking trail that goes around the lake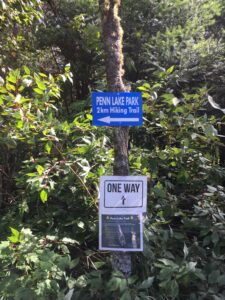 Allan "Want to go?"
Me "Of course"  while thinking, they wouldn't really put a trail where bears hang out!
Beautiful, but looks like a bear would be happy in this trail…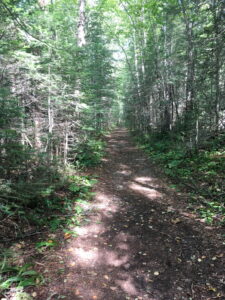 We forge on.  "What's that rustling sound?"  Allan researched what to do if you encounter a bear; do not turn & run.  Stand your ground, make noise and throw stuff.  Problem we have no stuff!
It's a very scenic trail…
The trail opens up to view the lake
Back in the wooded trail
We make it out!!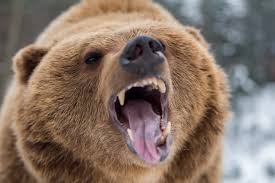 Celebrate with, of course, a fire!         
Turns out this is one of our favourite campgrounds.