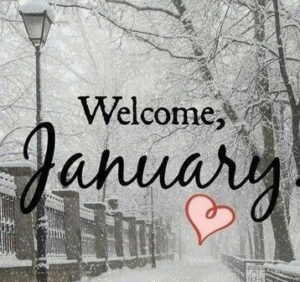 What will 2021 bring?  We are optimistic about getting the vaccine, when?  I believe by the end of October.  If vacinated, will we travel to the South?  We are certainly wishing we were there now, having a hard time dealing with the weather here.  May have been better to stay in Ontario where it's cold but at least there is sunshine.  It is beautiful here and we are enjoying exploring the area.  So much "what if??"  When will we be able to hug, entertain our friends again?  Be brave enough to fly?  New regulations going into affect January 07th:  all air passengers 5 years or older will be required to test negative for COVID-19 before travelling from another country to Canada.   The test, must be done 72h before travel; results from a molecular polymerase chain reaction test can take 1-3 days.  Sounds stressful!
It will be interesting to see what 2021 ends up like.  All we can do is… stay tuned!!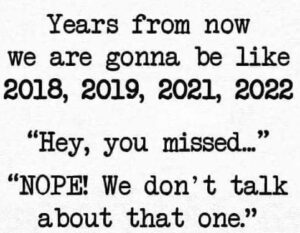 New Year's Day: The year, week isn't starting out too well.  Another cloudy day, no sun but at least no new snow.
We were playing DOS, I get up, hook my foot at the edge of the area rug!
          Down I go…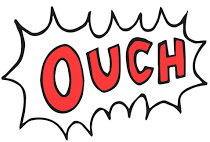 I've broken my ankle twice.  Both those times I heard the bone snap, no snap today – good sign?   Cold applied!  Not a fan!!
Dinner – left over Chinese, as predicted!
My 10k a day step goal, will be on hold for a bit 😒😒  Fortunately, we did have a walk in the morning, prior to the event!  Total day's step  6594.
January 02:  Ankle not good yet, hurry up and heal.   Another overcast day with just a few seconds of sun peeking out.
Today's highlight.  Allan's delicous burgers this time on Unbun (Keto friendly)  This definately is a repeat. 
Today's step count:  2959
January 03:  Today's weather forecast
Scattered Clouds
How exciting, bobcat clearing away excess snow.  Likely making room for more.
Today's step count:  1999 (well this sucks!)
Dinner, we eat very well 😋         
January 04:  This is an exciting day!  Ready for this?  Carpet cleaning and Allan is going to the park's barber for a haircut – both events begin at 1pm.
Weather – gloomy, (so many different ways to say cloudy) some snow mixed with rain.  Going to try harder to get more steps.  My ankle is a bit better.
We take our garbage for a walk and rather than coming straight back do a little block loop.
Carpet company arrives a few minutes early, bonus!  Tyler does a great job, Pro-Steam for the win!
Allan returns looking all spiffy!
Tyler suggests staying off the carpet for 24h so we move our game playing to the captains chairs
The day ends with Allan making "Beef and Broccoli".  A little messy but delicious.
| | |
| --- | --- |
| | Dug in quickly, no photo of the finished product |
Step count:  3730
January 05:             Another not sunny day and more snow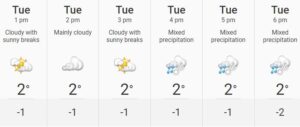 Alllan's sad – no more eggs   
Trip to IGA!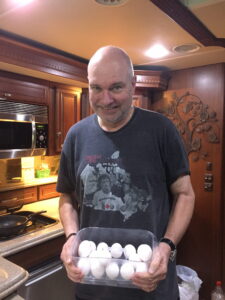 Happy now!!
Not much excitement today.  We take a walk around the park, ankle is a bit better.  We have a mystery to solve.  There is a rickety dump truck, it is not licenced so can not leave the park, it moves snow from the main streets to ???  We can't figure out to where.  We watch him drive down our main street, turn right.. we walked the entire area.  No snow piles.  Mystery continues!
Today's steps 4620.
January 06:  Waiting for a Purolator package day.  When we aren't Purolator is in the park early.  Not so when we are waiting.   Allan goes to his appointment.  Wait! What's that???  Yes!! Sunshine!
I stay home waiting, baking cookies and watching "Crazy Ex Girlfriend".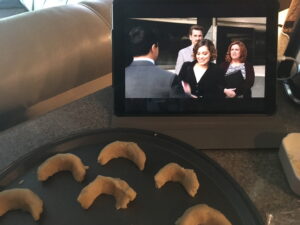 Today is Validation Day for US President Elect Binden.  It is astounding, they, were not prepared.  If you don't believe one person can make a difference in this world, there is this…
Package arrived at 4       
                            I am  now, officially a licenced driver!  Was a long process, finally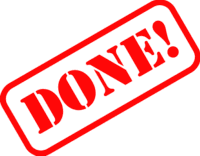 Got this done too!!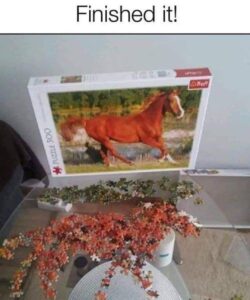 Turned out to be a productive day!!         Steps 5327
       January 07: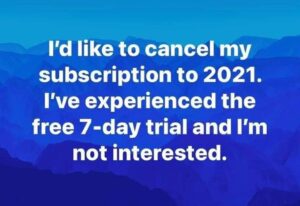 Hoping to just get this done!              I'd prefer to fast forward to 2022!
Hum…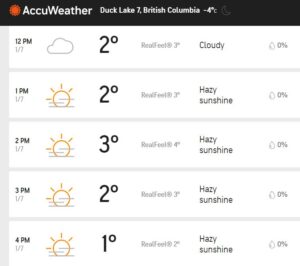 hazy sunshine.
Still wondering how many ways there is to say, another dreary day.
Happy to report today's plan was a success!