Start our day by bringing lots of garbage to the bin.  Trust me it gets more exciting..
Next stop…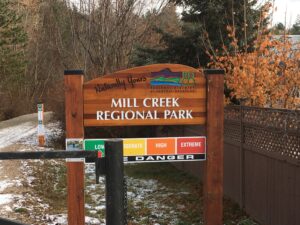 It's a little slippery but the waterfall may be worth it.  Think we should get hiking boots but storage is such an issue.
Heading the right way…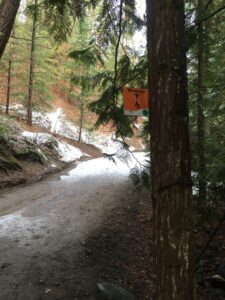 Decisions!  We opt for lower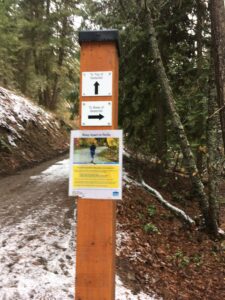 Ta Da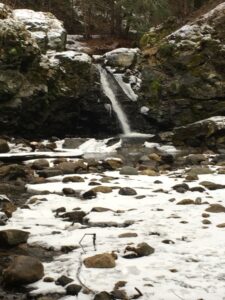 A little underwhelming. Niagara Falls spoiled us.  
View from the top of the falls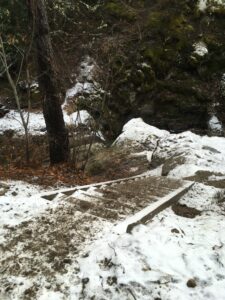 Not getting me to walk down those muddy stairs.
We are dangerously low on fuel, Allan loves playing these "how far can we go" games.  Even he is now, a little concerned but no Esso, Husky, has to be PetroCan, gets 3cents off a litre with — something??
We drive through the Kelowna airport, we can get so close to the planes.   
Made it!!  Not .39 really 1.039 a litre.  Allan's 3 cents off 100.9  Such a bargain!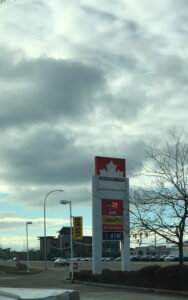 Now off to Walmart to get a cooler so we can defrost the freezer.  Only a tiny one to be found. Hate the hordes of people in here.  How many have Covid?  Home Depot is across the street.  Let's give it a try.  None here either.
Next stop,  Metro Liquor for a case of Vintage Ink-Rebel Red 2017 wine that is on sale for $3.00 off a bottle = $36 a case savings! 

We're back in Bob planning our next stop. Allan asks "what am I seeing?"  I don't know what " look out the side mirror"  Hum a march of sorts, "let's get out of here before they block us in". 

        Anti what evers!!
Next and final destination….   Barn Owl Distillery a little challenging getting here,  will not elaborate on that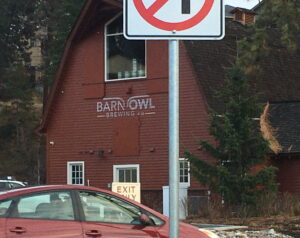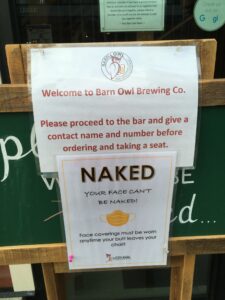 Different experience than ever before, you enter and place your order and then select your seat.  Choices are main floor, outside covered patio, upstairs.
I select ESPRESSO NIGHT OWL Porter:  This version contains Tug 6's El Columbian coffee. For those needing a little caffeine buzz, one 16oz sleeve contains half a shot of espresso.
Allan chooses BOHEMIAN RED PILSNER:  This unconventional beer is not your traditional American pilsner. The red body and beautiful Czech hops will make you rethink what you know about pilsners.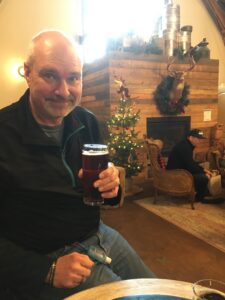 In and about the barn
Watching you!
                       Brew centra

l                               
A little different than what we are used to.. you can order food in..
Breweries offer, take home beers.  Guess which one Allan brought home  …
Growler Fills  64oz  $14.00 +tax
Crowler Fills  32oz   $  9.00 +tax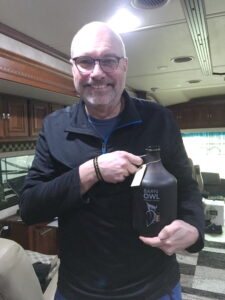 My advent calendar today