Search for a cooler so we can empty the fridge & freezer as the repair guy said to do.  Walmart & Home Depot failed us!  We asked on our local park FB group and Susan came through loaning us a cooler.
Our finger are crossed the total defrost works, hopefully not only eliminating the icing up but also finally allowing the dude in the fridge who goes "knock, knock, knock" out.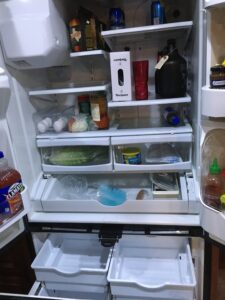 Forgot to take a photo of the full fridge and the filled cooler.  Cooler is full, we're storing it in Bob overnight.   It should be cold enough to keep the food frozen.
Time to celebrate our hard work.  Allan's growler & …
… my today's advent calendar offering.