But first yesterday's advent calendar, can't believe I forgot it in yesterday's post.  Allan, strongly disliked Peanut Butter Porter, but Allan doesn't like PB anything!  I traded my Reisling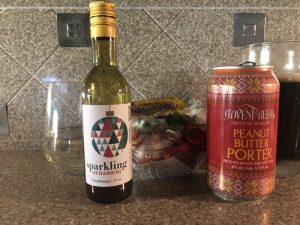 We are "out" early, before 9, a rarity for us. The reason?  We'd like to learn to play the fastest growing sport in America.  Guess what it is, click here to learn.  They have lessons Tues & Thurs at 9am.
The lesson went as well as could be expected.   Scoring takes a bit to get used to. We had fun and now have our own paddles on order.
Pick some oranges on the way back, the park is full of orange, grapefruit & lemon trees.
We went to the library that has computers & printers.  We printed out our Sun Peak show tickets
There are several tables with puzzles in vaious state of doneness.  Anyone can sit down and contribute to the completion.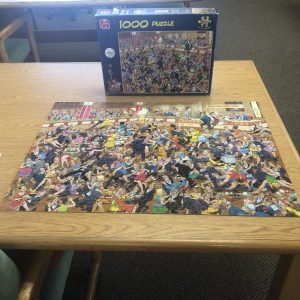 It's repair the outdoor light time with yet another RV tech.  You may remember the horror with the last crew "Pirate Mobile RV"
There are so many mobile RV techs it's difficult to know who to select.  We saw Jamie in the Walmart parking lot on Saturday.  Allan had a chat with him, fingers crossed!
Jamie arrived at the scheduled time and had the outdoor light short repaired within one hour.  He didn't charge any travel time, got the job done.  He is the fairest tech we've had.  We will not hesitate to recommend him.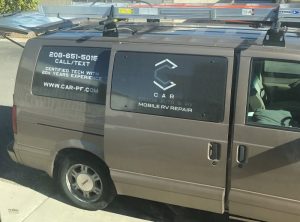 Our 🎄 arrives!     
Advent Day 8 to enjoy while decorating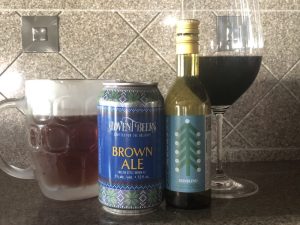 Allan is kind of liking this one.  Not amber but he's drinking it:)
Allan in action!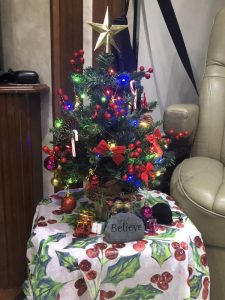 The tree
Coffee!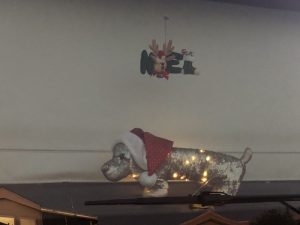 Bailey Tree 2022                                                             Woodland Tree 2013
Such a big change of lifestyle over the years!
Our first night here, walking back from the hot tub we say "what's with all the lit penises?"  Turns out the woodworking shop, years ago, made a different theme for every street.  There are our penises, howling at the moon, snowflakes, snowmen, on and on.
At the " Raising Frosty" get together, one of the neighbours, Rob, says he has an extra penis.  Lucky us, we are now the displayers of our very own "on loan" penis!