We are disappointed with Kelowna's weather.  It's colder than anticipated and there are many days with no sun.  We begin to monitor Osoyoos' weather as it is Canada's only desert and claims to be the warmest spot in Canada. 
Dual purpose trip, check out the camps and sightsee.  Are there any available spots?  Is it worth the move? Hoping to find answers to these questions. 
Such a scenic drive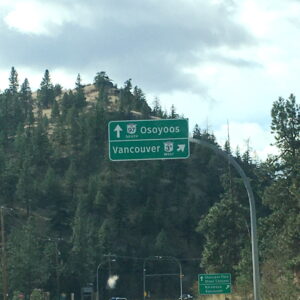 Downtown Osoyoos (don't blink) 🙂
First campground we check is NK'MIP Campground and RV Park 
The road from Osoyoos to NK'MIP
Campground has a spot for us!

  It's a little tight, the neighbour's dog is yapping and it is right next to the camp's garage & workshop. 

Off to the next camp, take a wrong turn… happy we're in Bob, Bailey would not have made the turn or the narrow dirt road.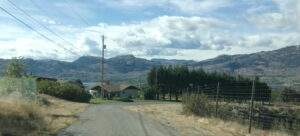 Paradise Park  This park is not big rig friendly.  We stop by another camp, ditto for not big rig friendly.
Holiday Park, our park, is better located for stuff, like Costco, online grocery pick up/delivery,  we can walk to Sav-On-Foods, the airport is a 10 minute drive – decision made we will stay here and bundle up and try not to curse the gloomy, no sun days, too much.  
Kelowna bound
With a stop in Keremeos for a late lunch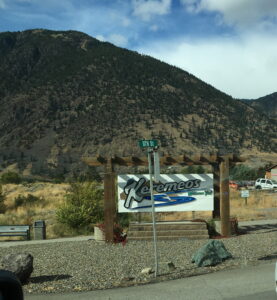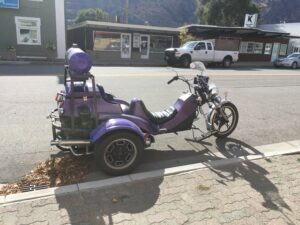 Cool trike! 
Town map includes a list of movies filmed here
None of the restaurants call our names so back on the road. 
Bye Keremeos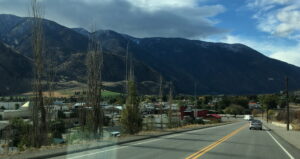 We drive by Penticton, an adventure for another day.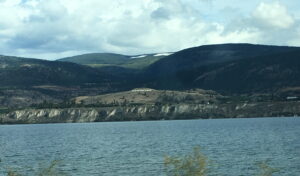 Stay tuned for tomorrow's adventure.