Bailey loves being the centre of attention!  Today is her day 🙂
11a appointment at Premium Truck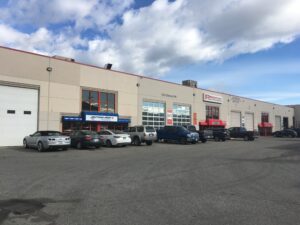 Inspection should take 2 hours.  Normally, Allan leaves me home but he took my home!
Bailey waiting for her turn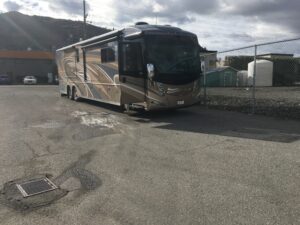 While we were in Lethbridge, Irma & Tom gave Allan a patch for his cub blanket, I need yellow thread to sew it on.  Been looking since we left Lethbridge in various stores with no luck.  Driving in I spot

.  To kill time while waiting for Bailey and to finally get the thread we head there.  Success!
That took less than 30m so we go for a walk in the neighbourhood, up a very steep hill.  We've walked about 45m, time to head back.  Bailey should almost be done and there is a lounge to hang out if she's not.  Oh no!  Bailey is still outside waiting.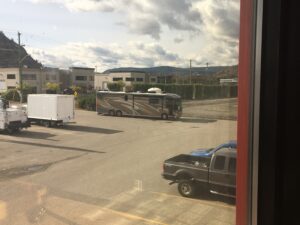 What happened to the 11a appointment???

We head in to figure out what's (not) going on.  Allan gets a little side tracked. "Look a big truck!"
They say they will bring Bailey in

Our turn! 
 In @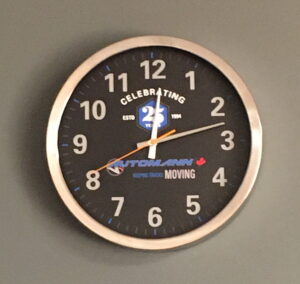 The road isn't really walking friendly but we're hungry and google indicates there is a Chinese restaurant nearby.  Allan heads us out.  We walk and walk and dodge vehicles.  No restaurant.  Check maps again, apparently we walked right by it.  This time we leave maps open and head back and find the address.  No restaurant, google let us down!  Back to Premier's lounge.  3 hours later still no word.  
Allan goes to speak with the mechanic.  It will just be a few more minutes.  Finally the dude comes to the lounge and says the rotors and pads require replacement. 5k brake repair!  We weren't expecting that.  They  have to move Bailey to another bay that has a pit as the wheels have to come off.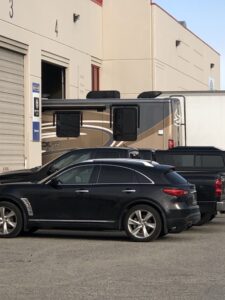 Bailey doesn't quite fit!   
Dude takes Allan to show him.  Side note: First time Allan gets to see Bailey's underside.  They discuss and come up with working some brake magic, while of course being safe. Ends up costing $1k.  Look at us saving money!
We finally leave at 5p.  Bonus! Rush hour wasn't as bad as we thought it would be. We get back to the park and set up.  No POWER!!  It's dark already making it more difficult to to troubleshoot.  Allan resets the breakers, wiggles the wires, nothing.  Allan the "almost electrician" is out of ideas.  Who to call?  I suggest going to the front office to see who they suggest.  They have a list but the lady says the security guard is a long time RVer and knows stuff.  She'll ask him to stop by.  He comes by, resets, wiggles, jiggles wires and then resets the breaker in the electric room.  Still nothing.  I'm watching the panel and WOOHOO power is back, much to their amazement.  Can't explain it but we don't care.  
On our road trip yesterday, Allan picked up a new amber friends suggested.  Now's the time to sample!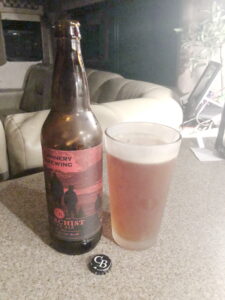 the verdict is!!
It's OK but does like this one better.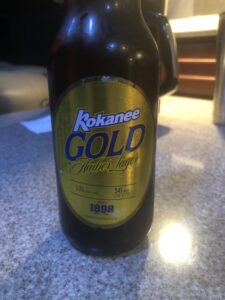 That's a good thing as Kokanee Gold is available here, the other not so much.  
Yellow thread job complete. 
| | |
| --- | --- |
| Top left, Lethbridge Peace Office  | How many of you have cub blankets? |
So ends another exciting day!