Up early 530 perhaps in anticipation of today's travel day to Charlotte, SC.  We want to get close enough to the border that we could cross in one day.  From Charlotte it would be an 11h drive.  Way longer than we'd like but doable.
We are missing Pinellas Park's weather.  Richmond Hill, where we are, is a suburb of Savannah, it's also of Toronto – not where we are.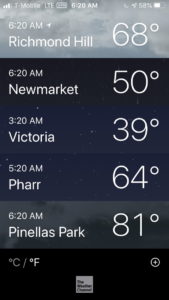 Thunder and lightning storm going on, haven't heard either in eons.
This is getting serious, not only pouring Rain so much we can't hear the radio but our cells go off with the deafening Amber Alert. 
  This one is really a tornado warning.
The rain has subsided, we leave the park at 10a  km 64,158.  This is the road out
We cross into South Carolina.  A new state for us, Allan gets to update our US travel map.
New signage every few miles     🙁
This guy should have stayed home

he rolled the car.
The tornado caused many downed trees.  Glad we didn't come through any earlier.
Ours. or rather my, dreaded must stop for diesel fuel.  Seems truckers are immune, bless their hearts. I value each and everyone of them but I have yet to see one wearing a mask or gloves.  We are only down 1/4 tank but with these times better to fill.  Love, Love's app – it allows Allan to select the location, the pump and activate it all from the comfort of his seat,
Out Allan goes humouring me by wearing his gloves and a bag over them
We called the KOA and asked if they have a no contact check in.  No, regular check in – are you f?<&#ing kidding me??    Guess they see the errors of their ways cause they call back and offer a no contact check in.  Call when we arrive and they will guide us to our site #72
Hello!! Are you there??     
We figured out they though we were "virus'ed" when we asked for a no contact check in.  This is where they put us and told us they were upgrading our site from a back in to a pull through.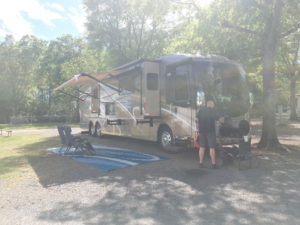 Looks nice until you see the other angle

Worst site we got in all our travels so far!!
Isn't it ironic, don't you think???  Our last grocery order we asked for romaine lettuce, shopper communicated they were out should he sub iceberg.  Yes.  When it arrived it was cabbage not iceberg.  Tonight, we are out of all sub'ed lettuce.  He also sub'ed roma tomatoes for the vine ones I wanted. The cabbage salad tasted really good.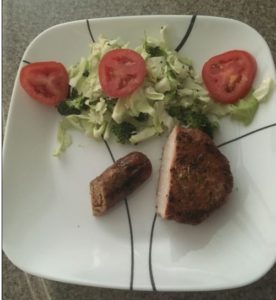 Anxiety, there is a grocery store a minutes walk away Publix Fort Mills, need groceries but can I do it???  I don't want Allan to go, he can drive a sick me home – I can't him.  Stay tuned 🙂
I should dress like this, no-one will come close, but still WISH we would have masks