Sorry Yuma! 🙁    We seem to bring un-seasonal weather where ever we go. The normal…  "The windier part of the year lasts for 6.1 months, from December 17 to June 21, with average wind speeds of more than 7.1 miles per hour."
Note:  All today's photos are clickable to make them larger in a new window.  PM me which format you enjoy more.
Today's wind gusts up to 31 mph,  non-gusts 19mph.   Crazy winds, blowing dust.
Today's non-reward adventure is to Arizona Market Place
They opened today for the season, closing sometime in April.  Some great deals, some things that are overpriced deals
Live entertainment.  Allan is happy they have an Amber on draft.  The poutine was delicious with a different type of cheese curd.
This is a great idea!  I just didn't know what box we have, they have many different wine box shapes here

Allan is happy with his current on board selection of ambers.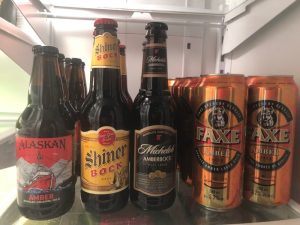 Dinner then hot tub time!  A happy evening to all!!