8:55a, 46,566k getting an early start cause today is the day we go to Costco. True to us it is a 5-minute drive from the RV camp, yet we still manage to take a wrong turn. Around a building we go… We do make it and thankfully the parking lot is relatively empty. We park in the back and stock up on stuff, back on the road at 11.  Today's destination is Bakersfield.
We opted to take the scenic old Pacific Coast Highway until we had to turn inland. We drive through several cute towns with extremely narrow main street. Allan gets to use his air horn for the first time. Scared the crap out of the lady who was inching onto our road without looking. Allan decides his nerves have had enough so now we head to the main highway, I5.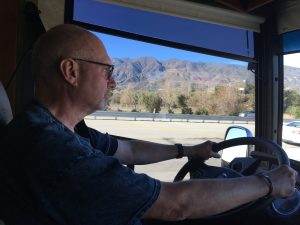 We have a choice to turn left into a marina, not for us, or right we can't tell where that goes so right we go. Whoops, this is a military base, complete with an armed guard at the entrance.  There is no way we can U-turn in the street.  Turns out it's Camp Pendleton's housing area. Mary-Ann jumped out and sweet talked the guard into letting us drive in and turn around but not before he called for armed backup to make sure that was all we did. Got turned around and headed back to a safe I5.  So happy to be back on the highway.
It's getting late so we stop at the KOA in Bakersfield for the night. We did not expect it to be as cold as it was, little did we know it was just going to get colder.
We did Traegar dinner, relaxed by the fire and we anxious to get to Vegas.