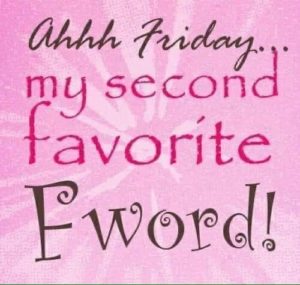 Up early, my worry the slide won't close was for not, as Allan predicted.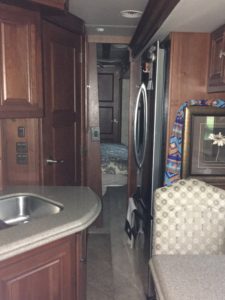 It is at quite the angle. Allan has replaced toilet flusher, shade motor and more this is the next challenge.  Rehang the heavy, heavy door. 
The rain could have waited until we were all packed up but that's what raincoats are for!
Goodbye KOA Lebanon
| | |
| --- | --- |
|                                                           We'll be | back!! |
                       Today's drive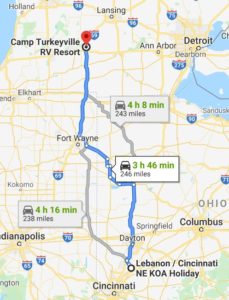 Took us a moment to figure out what was up ahead
Yep, on the correct highway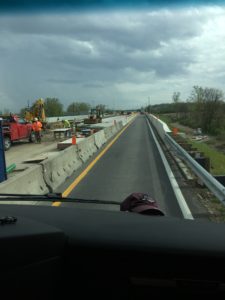 Truckers transport the most unusual objects, what's this?
You gotta love when the highway goes through a downtown, this one is Van Wert. What's this guy towing?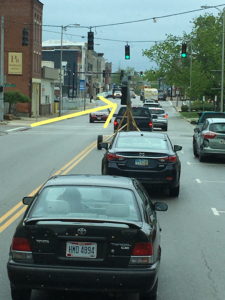 More weird stuff!  Kyle, this is what we were seeing when we were on the phone with you.  Finally we know what something is, a blade from a wind turbine​.
Fun fact: The blades of the wind turbines are 120 feet long so that the total height from the ground to the tip of the blade is more than 380 feet, approximately the height of a 32-story building. How fast do the blades turn? Depending on wind conditions, the blades turn at rates between 10 and 20 revolutions per minute.
Let's go quick to where there are no clouds, up ahead!
Last State before entering Canada
When did Michigan change to Pure Michigan?  Pure Michigan began as an advertising campaign launched in 2008 by the state of Michigan, featuring the voice of actor and comedian Tim Allen, using the title song from The Cider House Rules as the background music in television commercials.
Sad, we knew it was coming announcement!  Especially when the Toronto Caribbean Carnival was cancelled on April 8th and it runs after the Indy.
Honda Indy postponed because of COVID-19. TORONTO — The Honda Indy Toronto will not be held on its scheduled dates of July 10-12. Race promoters, Green Savoree Racing Promotions, made the decision on Friday after the city announced it was cancelling permits for major events and festivals for July and August because of the COVID-19 crisis.
@GreenSavoree are the same promoters as the St. Pete's race.  Just like St. Pete's we will not be getting our money back for this race.  We did get a refund, almost immediately when the Detroit race was cancelled.  Roger Penske rocks! 
I'd be OK with no refunds if they said, we can't afford to refund – if we have a chance of keeping the series going please bear with us.  I would!!  Instead they say, read the back of your tickets, no refunds under any circumstances.  Will I still be a fan on the flip side????
Remember those new wipers, hurray for them! Raining hard and harder!  Thanks again Jeff and Wipers123.com 
Shopping stops not required, Kroger delivered yesterday, we're good on fuel so only back break stops required.  We arrive at 130p
We were here last year, see the August 26/19 post.
Check in is a little different this time, turn around Allan!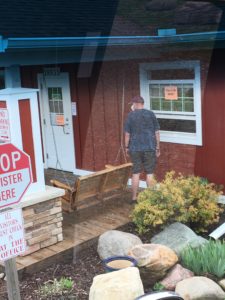 Set up!
A little closer to our neighbours than we'd like.  This site is 116, last year we were next site over 118.
180 deg view

The fullest park we've stayed in.  
Walk around the park, love the animals.​
And of course the turkeys.  Allan, do turkeys fly?