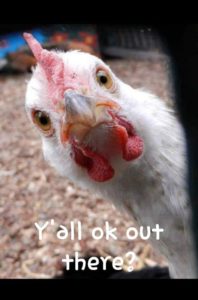 A little rainy out there this morning.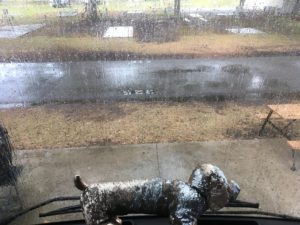 Fortunately it didn't rain for long.
Our month here is over on the 11th, strange to say but, "do we go or do we stay?" has been our hardest question.  Wednesday evening a medical supply truck dropped stuff off at the infected neighbours camper.  He still continues to walk the grounds with no mask.  Better the devil we know?
We have been attempting to place another Aldi grocery order for over a week, several times per day.  Out of eggs again 🙁  These are the messages we get…
Sometimes they tease us with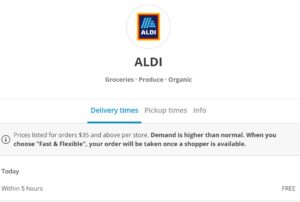 but the times are not clickable!
We have been self-quarantined since March 26th, we wouldn't mind continuing, but things are getting worse daily.

         We go!
We will take all possible precautions, I wish we had masks.
We book at Savannah South KOA, we'll stop at a Love's to top off fuel.  Tomorrow's trip, hoping it's totally uneventful.