Let's start the day with a brain teaser:   First, I threw away the outside and cooked the inside. Then I ate the outside and threw away the inside. What did I eat?      Answer next post
We're up early, 530.  Not unusual for me but it is for Allan.  Guess we're anxious/excited to hit the road.  We have coffee, shower then decide to go for a walk because we don't want to fire up Bailey till 8 to not disturb the neighbours too early.  We pull out at 835a; 63,626 km.
Goodbye Robert's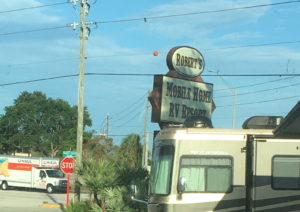 With a little luck we'll be back next year!
Not knowing what to expect makes me anxious.  We called the KOA to determine their new check in process.  We stay in Bailey, they come to us hopefully wearing masks and gloves.  Bonus, they have eggs they will drop at our site and charge the credit card on file.  Suspect it will be a fortune.
On the road I don't know what is sadder, the lack of traffic, most places closed or the groups of people not social distancing.  Every Dollar General we pass has tons of cars.  We see several groups of people fishing.
I'm so nervous about our fuel stops.  I'm trying to keep a sunny disposition,  but some times, with no notice, my eyes leak.
Back over the really long bridge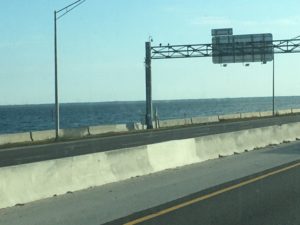 You wouldn't catch me out there!  Tampa in the background.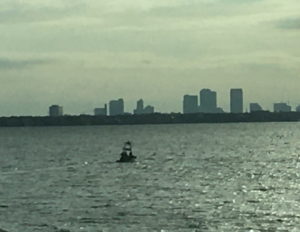 Been trying to take a photo of the Florida citrus sign since we first entered the state.  This is the best I  managed to get.
Want this gone!
Heading towards Jacksonville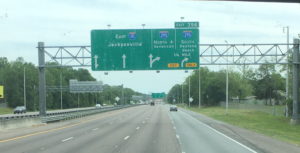 Yep this is our exit
Savannah here we come                   
We are leaving Florida, entering you must pass through a check point, all lanes reduced to one. Relatively quiet Saturday of Easter weekend.
Sad to leave…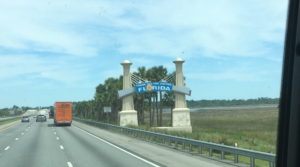 But hey!  Say HI!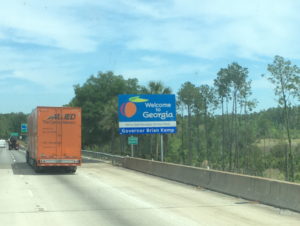 Anxiety kicking in, this is our fuel stop
Allan, my total sweetie agrees to wear a bag over the gloves he always wears to get fuel.  Pre authorizing the purchase
and he's out filling
Who is that gloved wonder!!
Pass side of the road take down,trunk  emptied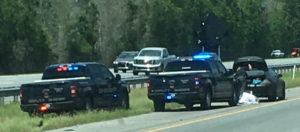 Arrived at Savannah South KOA at 230.
​
Being lead to our site, no mask 🙁       
Remember they have eggs. Now they have our $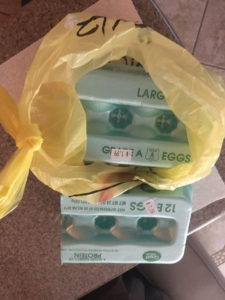 Allan's liking this temp a bit better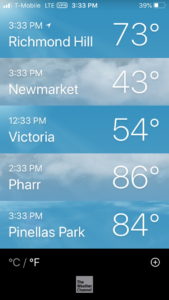 2 loads of laundry done!
Chinese for dinner then….
3rd IndyCar race.  Michigan International Speedway!  We were there, for the real race, many years ago.
Tomorrow tour the resort.