March 02nd  –  Here's our new park
Spot Bailey? Whoops!!
Our "no frills" spot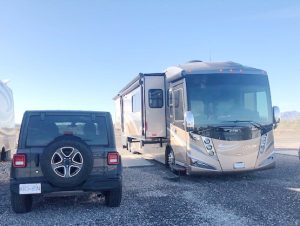 A drive around town lands us in several flea market type place with every imaginable stuff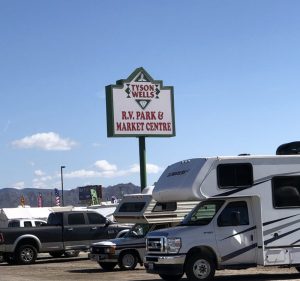 Then we hit pay dirt!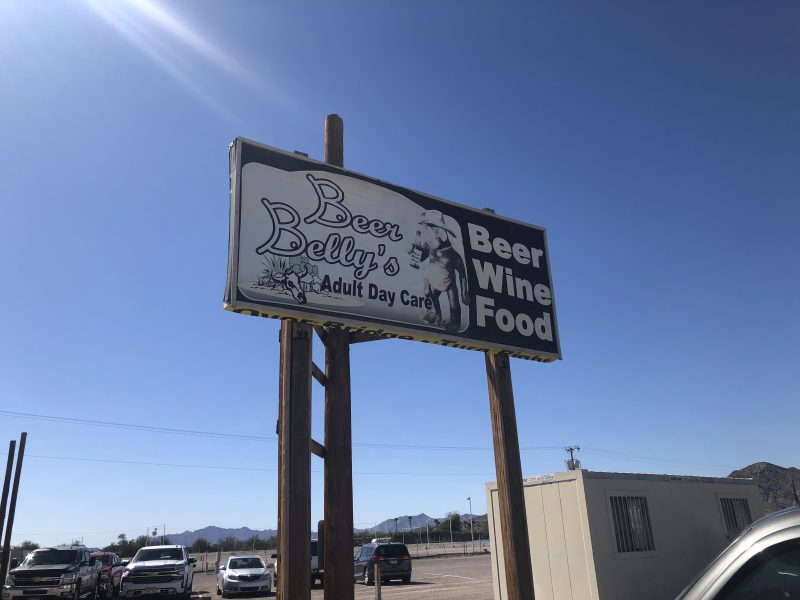 A fun 😁 place with Amber Bock & Kilt Lifter on tap
As seen in the biffy …
Our favourite  😛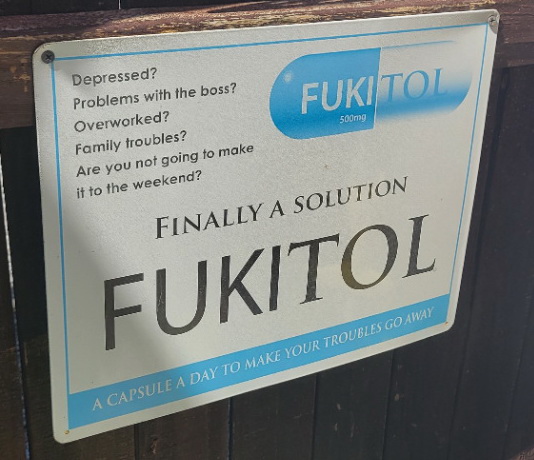 Another swap meet
Get back to Bailey to find out an arriving 5er forgot he was navigating a 5er (5th wheel trailer) and moved the manditory rock (for some reason parks have rocks, not sure why but they do making it more difficult to navigate) from the back of the site into the pedestal taking out the electricity and water to all the sites on this side of the park, of course it's our side!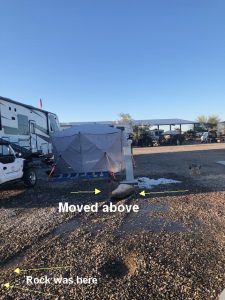 They scurried off.  The park got the electric back lickedy split, the water however, they said likely not to Sunday cause the park plumber respected the sabboth.  Don't know why he couldn't work on it Friday night before dark.
The police were called, a report filed.  The 5er did leave his insurance info, this will be an expensive whoops.
Our issue, we are heading to our Freightliner service dealer for our annual service.  We left Yuma for Quartzsite thinking not only are we closer but we'll explore Quartzsite.  We will be staying on the Volocity Freightliners grounds on Sunday night but they only have electric hookup.  We're not good to dry dock for more than 3 days, if we're lucky.
We spoke to the Manager really just asking "what happened" and explained our situation.  She gave us a $20 gift cert to get water, and anything else we wanted from the RV Pit Stop in town.  She estimated water could be $8.00 to fill.  She did say she was trying to find a plumbing company to come in on Saturday but …
Sunset, not as spectacular as most but still 😲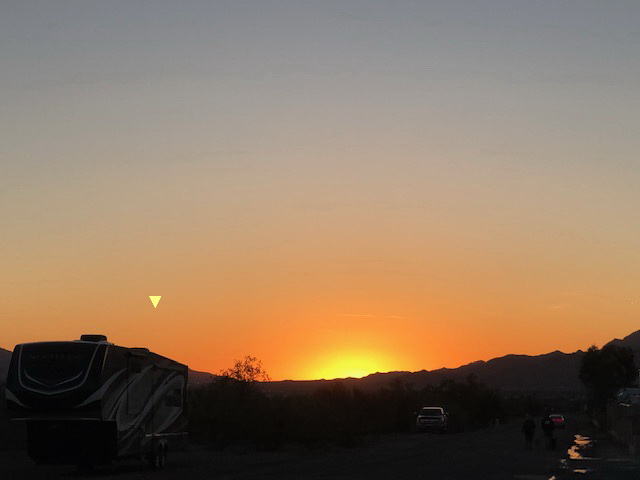 Wake up to CB Plumbing to the rescue!  They arrived at 837, water back at 950.  Thanks!!
Today's walk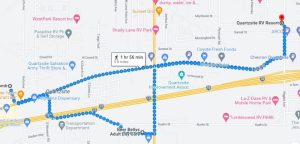 What's with all the camels?  Saw many more I didn't take a photo of..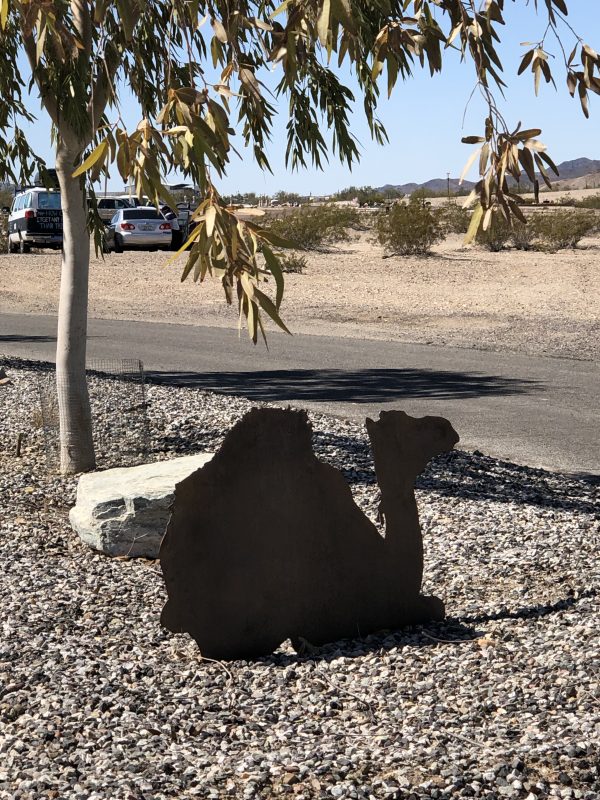 The camel story!  Click here 
Wanna fish?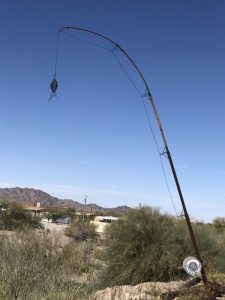 Seems like good advise!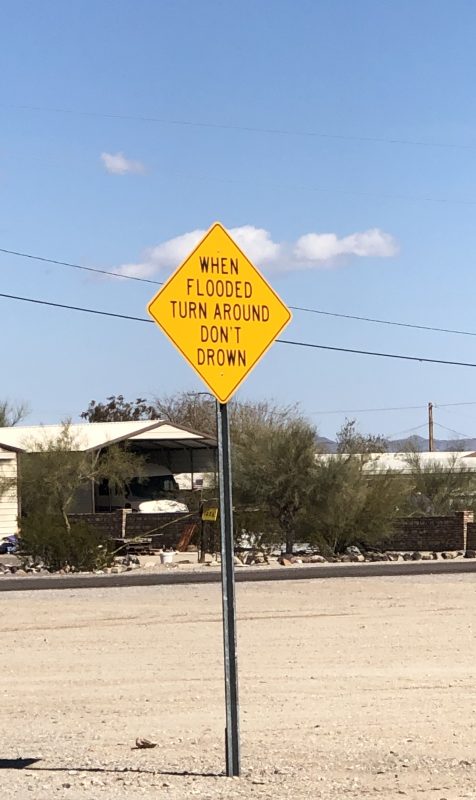 Made it to today's destination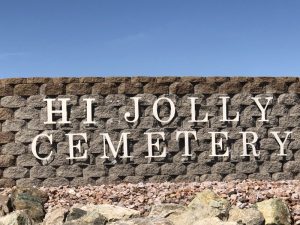 It is an interesting place
Back to the Beer Belly Adult Day Care!  Today it's live entertainment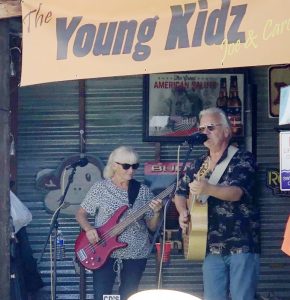 My hero!!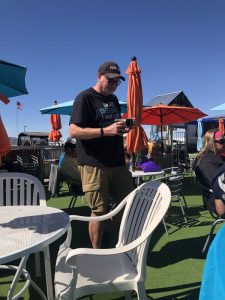 Today's almost at the end of the day steps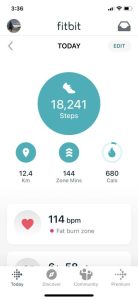 Strange:  The very noisy military jets that were a part of our daily lives in Yuma here a mere 80 miles away we don't hear them.
So ends another day!