Super cloudy, no sky to be seen.
Choices are stay in and play games or risk the rain and head to Peter's Grocery Store for much needed meat. Off we walk, Bossier City, Louisiana is not pedestrian friendly but we make it using the shoulders. We get to the other side of the highway and see signage directing to Louisiana Outlet Mall, Horseshoe Casino,  and Margaritaville Casino,  @Mville_Bsights 
We forget about the grocery store for now, off to see the sights.  We walk past @FlyingHeartBrew and decide to give it a try on the way back.
Horseshoe Casino, @Horseshoe_BC  is much nicer than ours, offers several restaurants and entrainment and best part it doesn't smell. People still smoking but much better ventilation. We found the slot machine of our choice and promptly lose our $20s. Vegas gambling and the occasional win was more fun!
It is sprinkling a bit now, so we head to the Outlet Mall which turns out to be an outdoor mall but at least it gets us closer to Margaritaville.  This is the nicest of the 3 casinos. We find a bar and I have a #margarita, of course.
Allan discovers a local brewery amber, Abita! @TheAbitaBeer  brewed in Abita Springs, LA. After enjoying our beverages, off to find a promising machine, and there goes another $20. Louisiana gambling is not for us.
Skies are more threatening. We make it to Flying Heart Brewery where Allan discovers yet another Amber ale. A look outside, it is now pouring fortunately it stopped when we were finished so now on the Peters Grocery Store found on Yelp. Get there only to discover it is closed for who knows what because there are employees in there doing something.
Even this sidewalks #Bossier is not pedestrian friendly with a sign dead centre.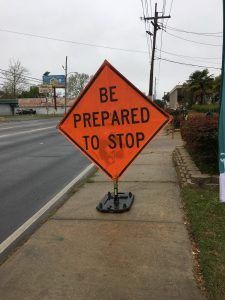 Back to Bailey. Tomorrow's destination, Marion, MS.