A lot of flatness & cows!
SNOW, no!!!
We later learn it is really sulfur.  The goal is, Bailey never sees snow!
We see many grain silos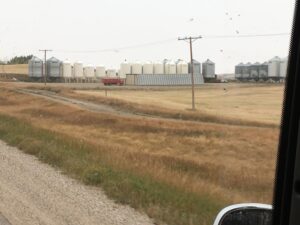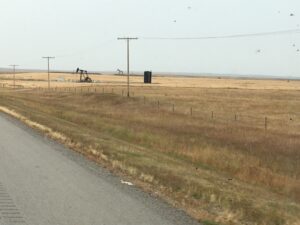 Some oil wells
Trains and more silos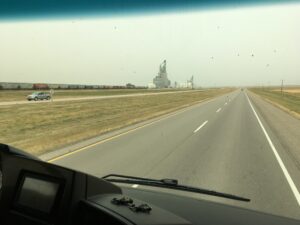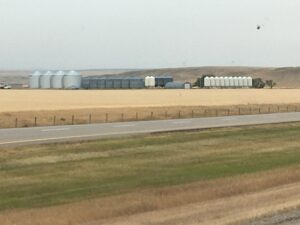 Alberta!!!!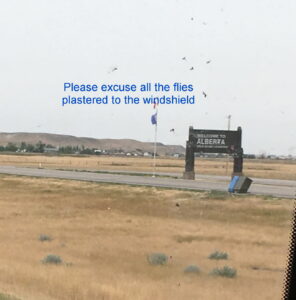 We pass a sign indicating vehicles over a certain weight must report to the inspection station.  Does that include us?  Allan errs on the side of caution, after seeing the chaser vehicle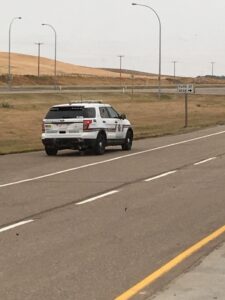 Turns out it isn't required for us, would have been interested to determine our weight but we couldn't figure that out.
Back on the road I finally get a photo of the "Important Intersection" sign.  We foolishly thought all intersections were important!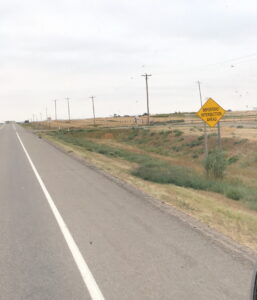 Almost there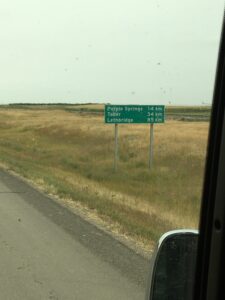 What's that???  Turns out it's the Water Tower Restaurant.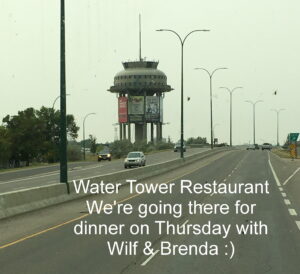 Next exit is ours…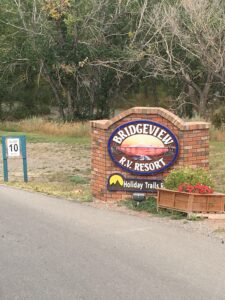 is in a coulee  New word that Brenda taught us
Heading to site F145P
This is the first site we've been in that is both pull thru (Bridgeview calls it that) and a back out. 
It's a nice, long site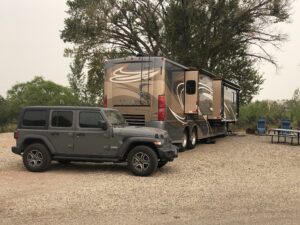 With this view from the front seats   
We see a river, off we go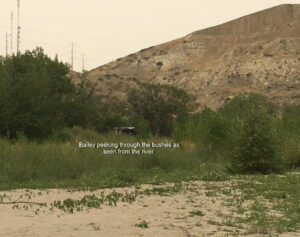 We spot a ship wreck!
Some lovely scenery
The Lethbridge Viaduct, commonly known as the High Level Bridge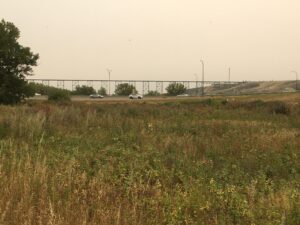 Construction began August of 1908, the bridge was completed June 22, 1909 and officially opened on November 1, 1909. It cost a whopping $1,334,525.00 to build. This bridge is still the longest and highest of its kind in the world reaching 5,327.625 feet long (1.6km) and 314 feet high (96 meters). In its time is has been described by some as one of the wonders of the world!  We thought the Peterborough one was impressive!
We're in Lethbridge to see Allan's childhood friend, Wilf and family.  The evening ended with a surprise visit from Wilf's parents
And then Shelly, Wilf's sister and her husband Jim.  Forgot to take that photo!
It will be a super fun week here.