We awake to full on sunshine, such a nice change. We head to Sicards @ 720a, km 52,546 and wait for them to open in a nearby parking lot. 
While there we eat up the balance of our left over food so a Chicken Caesar Salad it is.
This was our schedule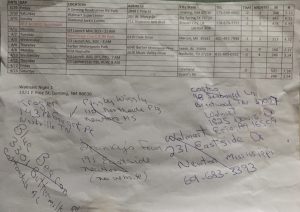 9ish we head to Sicard who are in Smithville, a small little town.  We are hoping to get an Uber home but suspect we'll have to cab it to Hamilton and get an Uber there. 
Drop off complete, km 52,590, Allan looks for an Uber and much to our surprise and delight there is one 15 minutes away!  Ya, Uber!!
That's it for this adventure, now we search for a local campground for the summer.  We are hoping Sicards does all the required repairs.