First race starts at 9am, it's going to be a busy day.
We go to the front straight, whoa!! A very many step-up overpass Michelin bridge to get to the other side of the track. Neither of us are fans. Doesn't look intimidating from this side.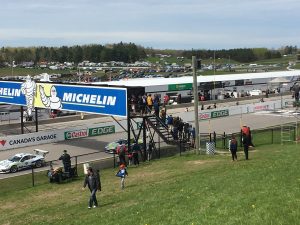 Make it and watch from the start finish line for a while.
On our way back to Bailey we stop at turn 2 but first we grabbed a bevvie.
Our neighbours arrive, they are from Quebec and have a Winnebago Gran Tour. Should have gotten a better photo, only see the back sticking out.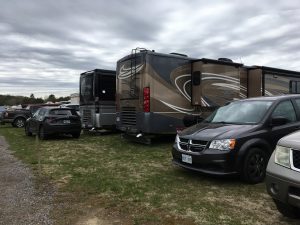 We do venture to turn 5 and watch there for a bit.
7pm a band is playing to be followed by fireworks.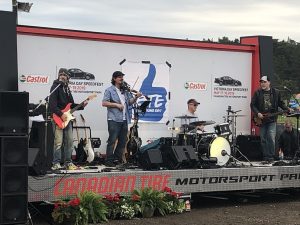 The on track activities are over so we walk on the track back to Bailey where we'll watch the fireworks. 
A well-deserved glass of wine and fireworks!
OFF to bed we go