Wake up about 6, didn't have the heat on  so a bit chilly. Made a pot of coffee, gotta love it.
Off to Walmart for our first grocery haul.
Packed up good to go attempt to bring in the slide… takes 4 resets  as newbies this is unsettling   Will it or won't it close.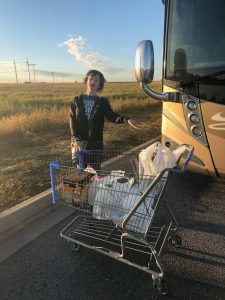 Entered Texas ar 910m, darn it missed taking a photo of the welcome sign.
Another first!  Poured us a second cup of coffee while Allan was cruising down the highway.  I'm getting my sea legs.  Amarillo 84 miles.
Driving was relatively uneventful but then this.. stay alert, don't drive if tired it's just not worth it.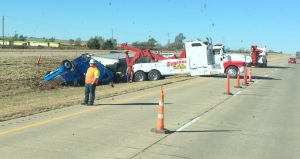 Driving and driving anxious to get to our first camp ground.  Up to till now we were boondocking.  I'm sure there will be much more learning happening.
Following Oklahoma photos, please ignore the squished bug windshield.  Wind turbines galore..
Welcome to New Mexico, finally a sign I managed to get.
Driving through Albuquerque we see this drone monitoring traffic, it was fairly noisy.
My job as co-pilot is rough, I get to call out the incorrect exits to take have done that twice already.  Once ending us up in a seedy looking areas with tight turn.  My other job beat another level 🙂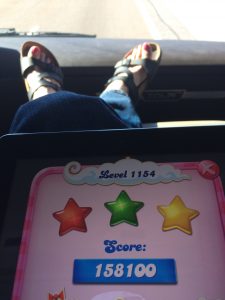 We are heading to our first campground.  So far we have only boondocked (RV speak for parking anywhere without amenities).
Grants AZ is our first campground.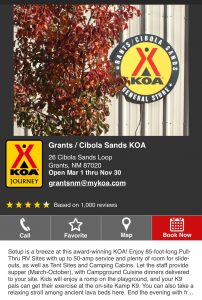 Our first setup was not without incident but Allan got it done.
In and around the camp ground.
A little story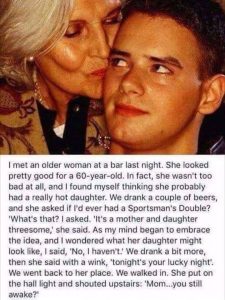 Now we have some chill down time is this Allan playing Candy Crush?
Dinner time!  Allan so loves his Traegar!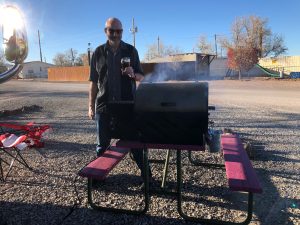 And that does Tuesday and Wednesday.
Travel day tomorrow, heading Apache