Today's a rest up, do little but eat and drink kind of day.  Tomorrow we head to World Wide Technology Raceway at Gateway @WWTRaceway for our second @IndyCar race in 2 weeks a first for us.
The day starts off dreary, humid no sun but at least no rain.
Reading the Terre Haute Visitor's Guide we learn TH is the birthplace of the coca-cola contour bottle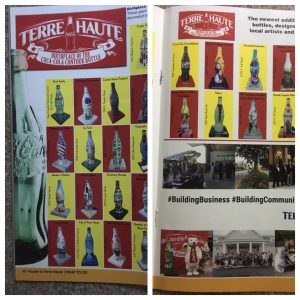 We wander around the camp ground.
Allan decides he will buy feed for the donkeys; Storm with the dark cloud on his back & Chocolate Chip with cookie looking rings Storm & Chocolate Chip
WooHoo the sun is out!! Set up complete, all is good!